Billboard Fact Sheet available
Nearly every day Scenic America gets calls from citizens desperately seeking help dealing with the visual pollution caused by billboards. In fact it's the most common call we receive!
In response we have created the Billboard Fact Sheet, a handy 4-page reference guide to basic facts and figures about roadside billboards, and we're making it available free as a PDF download:

Download the Billboard Fact Sheet
In addition, we have a limited number of professionally-printed fact sheets available for purchase in our bookstore. These glossy versions are ideal for handing out at neighborhood gatherings, city council meetings and anywhere else that decisions are being made about how your community looks.
The Billboard Fact Sheet is not intended to be comprehensive, but rather to answer some of the more commonly asked questions about billboards and to help stimulate conversation and debate among citizens, public officials and business owners. For more in-depth information about battling billboard blight visit the billboard issue area of our website.
We hope you will find the Billboard Fact Sheet a useful tool in your efforts to combat visual pollution and make your community more scenic!
Seaside road in south Jersey benefits from local couple's efforts
A digital billboard that kept neighbors awake and blighted a southern New Jersey seaside roadway has been taken down thanks to the determination of one local couple.
As part of the settlement of the lengthy and expensive legal battle, the company that put up the Margate Causeway billboard has agreed to never operate a digital billboard along the bayside strip again. In addition, the owner of the property where the billboard stood has signed a deed covenant that will permanently ban any new billboard from being built at the site, and no existing billboards along the causeway can be enlarged or converted to digital.
In exchange, Richard and Deborah Levitt, the couple who successfully sued to take down the sign, won't seek to make the company pay their outstanding legal bill, which exceeds $200,000.
"The Levitts are to be comendended for their courage and determination in seeing that this digital blight went away," said Mary Tracy, president of Scenic America and a part-time resident of the Jersey Shore. "All of us in the area are thankful for the Levitt's willingness to take on this issue and emerging victorious."
The $4.3 million billboard: A case study in condemnation costs
Documents reveal that the Minnesota Department of Transportation agreed to spend over $4.3 million in public funds for the removal of a digital billboard as part of a bridge reconstruction project. The billboard's removal was necessitated by a project currently underway to replace the Lafayette Bridge, which carries state highway 52 over the Mississippi River near downtown St. Paul. The state paid the billboard's owner, Clear Channel Outdoor, $4,321,000 for the condemnation of a single digital billboard. Clear Channel retained ownership of the billboard and is believed to have relocated the sign to Minneapolis soon after its removal.
Click here to learn more.
Billboards come down on Florida's A1A Scenic Byway
There was great rejoicing among the many people present for the tearing down of the first of 10 billboards along the A1A Scenic and Historic Coastal Byway in northeast Florida in January 2014.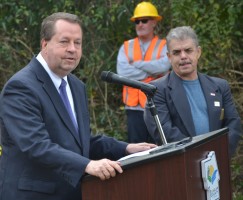 Bill Brinton speaking with Commission Chairman George Hanns nearby. (© FlaglerLive)
Flagler County bought the 10 billboards, spread out along four scenic miles of Oceanshore Boulevard, to get rid of them and restore the views along the scenic byway.
"We have achieved a milestone here today, and it's over two decades in the making," said County Commission Chairman George Hanns. "We need to do everything we can to restore the natural scenery of the area."


Bill Brinton of Scenic Florida gave an award to Flagler County leaders on behalf of Scenic America and quoted from
a speech Charles Kuralt gave
to a national Scenic America conference in 1997. Remarking on the need to restore natural and scenic beauty all across our country, he said: "The way it's going to have to be done is place by place, and one place after another, by the people who live there."


For more coverage:
Scenic America Board Chair talks aesthetic regulations in NYC
Scenic America Board Chair Ronald Lee Fleming was a featured speaker during a recent public symposium on aesthetic regulations at the historic Arsenal building in Central Park.
The event was inspired by the 100th anniversary of the
1913 report
by the Mayor's Billboard Advertising Commission of the City of New York. Panelists discussed the origins of aesthetic regulation in New York, delved into present day situations where policy has fallen short in protecting historic and scenic views, and discussed potential tools to solve these shortcomings.
Anthony C. Wood, author of
Preserving New York: Winning the Right to Protect a City's Landmarks
, gave a presentation on the history of the city's scenic regulations and moderated a panel that in addition to Mr. Fleming included Matthew Goebel, author of Aesthetics, Community Character, and the Law, and Carol Clark, Adjunct Associate Professor at Columbia University's Graduate School of Architecture Planning and Preservation.
The event was co-sponsored by the
New York Preservation Archive Project
, Scenic America, the
Historic Districts Council
, the
Neighborhood Preservation Center
, the
Historic Landmarks Preservation Center
, and the
Historic House Trust of New York City
.
Watch video of the event below:
Lawsuit over digital billboards gets green light to proceed
Scenic America won a preliminary legal victory when a federal judge ruled that the group has standing to challenge a 2007 Federal Highway Administration (FHWA) ruling that allowed digital billboards to proliferate on federal-aid highways across the country.

Scenic America, represented by the Institute for Public Representation at Georgetown Law School, filed the lawsuit in January 2013 asking the Court to overturn the 2007 FHWA memorandum that reversed decades of policy that prohibited signs with "flashing, blinking or intermittent" lighting on federal-aid highways.

Click here to download the Court's ruling (PDF).

Scenic America is pleased with Judge Boasberg's decision that we have standing to bring this lawsuit. It has been six years since a Federal Highway Administration (FHWA) ruling allowed digital billboards to start proliferating on federal-aid highways around the country, contravening both the spirit and letter of the Highway Beautification Act. As a result traffic safety is being compromised and quality of life is being degraded for people who live, work or travel in the vicinity of these bright, blinking billboards. Scenic America filed this lawsuit only after waiting years for FHWA officials to take action on our properly filed administrative review petition. We look forward to the Court hearing the full merits of the case.
Middletown, Rhode Island receives award for removing billboards
Scenic America has presented town officials in Middletown, Rhode Island with an award for "Excellence in Leadership" for removing billboards along one of the main gateway roads into the town. (Click here to watch video of the award presentation).


The removal of East Main Road billboards (seen at right in before/after photos) came earlier this year after the town's lease with the billboard company expired. Despite some pressure to retain the billboards, town leaders decided it was more important to improve Middletown's visual environment by removing the billboards.


Scenic America Board Chair Ronald Lee Fleming congratulated Middletown Town Council President Christopher Semonelli for his commitment to preserve Middletown's scenic character and for town leaders' resolve in pursuing the matter. The town council has been trying to figure out how to evict the billboards since 2009. Last year, in a 4-2 vote, the council voted to let the contract expire and remove the billboards.

"There were three others that formed the majority in the vote," said Semonelli as he accepted the award. "It looks so much more beautiful. Now there isn't a billboard, there is a beautiful trail that leads off to the forests."
Governor Chafee receives Stafford Award for beautification program
Rhode Island Governor Lincoln Chafee has received Scenic America's Stafford Award for his leadership in establishing a highway beautification program aimed at improving the visual appearance of the state's roadways. The award
was presented
during a recent reception in Newport hosted by the group's chairman, Ronald Lee Fleming. An award for excellence in transportation leadership was given to Rhode Island Department of Transportation (RI DOT) Director Michael P. Lewis for his skill in implementing the program.
Gov. Chafee receives the Stafford Award from Ronald Lee Fleming, Board Chair, and Mary Tracy, President. Photo courtesy Newport Seen.
"We applaud Governor Chafee for his visionary leadership and Director Lewis for guiding this exciting initiative," said Mary Tracy, president of Scenic America. "Communities all over the country are recognizing the value of attractive gateways, and Rhode Island is leading the way in creating beautiful scenes for all to enjoy."
Begun in 2012,
the beautification program
seeks to strengthen tourism and promote economic development while also improving the aesthetic character of key gateway areas to the state. One unique aspect of the program involves commissioning local artists to design murals depicting scenes of historic, aesthetic or cultural significance to Rhode Island. The images are then installed by professional muralists on abutments and retaining walls along some of the state's busiest roadways.
Scenic America President Mary Tracy gives an award to RI DOT Director Mike Lewis.
The first mural
went up last year
on the Wampanoag Overpass Bridge, visible on I-195 West in East Providence, and depicts sailboats in a Narragansett Bay waterscape. The image was designed by renowned local artist Anthony Russo and was selected by the Governor. In addition to improving the visual appearance of the state's roadways, the murals are intended to help discourage vandalism and graffiti.
Former Massachusetts Gov. Michael Dukakis, the 1988 Democratic candidate for president, was a guest of honor at the event. Also present were Newport Mayor Henry F. Winthrop,
Christopher T. Semonelli, President of the Middletown Town Council, and Jonathan Stevens, Gov. Chafee's Director of Special Projects. Both Gov. Chafee and RI DOT Director Lewis gave much of the credit for the project's success to Mr. Stevens.


Governor Chafee and Governor Dukakis.
Also in attendance were representatives from a dozen Scenic affiliates around the country, including Massachusetts, Kentucky, Tennessee, Texas, California, Pennsylvania, Florida and Georgia.


The Stafford Award is named for former U.S. Senator Robert Stafford of Vermont, for his concern for the environment and efforts to strengthen federal highway beautification laws. In 1993 Scenic America presented the award to the Governor's father, Senator John Chaffee, for his longtime support of scenic byways and context-sensitive road design. Other previous recipients include Senator Lamar Alexander of Tennessee, Governor Pete Wilson of California and U.S. Transportation Secretary Federico Pena.
Newport, R.I. declares July 12 to be "Ronald Lee Fleming Day"
For his nearly boundless efforts to amplify beauty, preserve historic character and cultivate civic pride, Newport, R.I. has declared July 12 to be "Ronald Lee Fleming Day" in the city, under a proclamation signed by Mayor Harry Winthrop. Mr. Fleming is currently Chair of Scenic America's Board of Directors.
"Mr. Fleming is a recognized authority in the role of art in creating vibrant, livable places, adding luster to Newport's worldwide reputation as a showcase of art and architecture," reads the first paragraph of the proclamation.

"I can think of no one who has done more to help beautify not only the communities in which he lives, but in many ways our whole country," said Mary Tracy, president of Scenic America. "Ron has an amazing ability to envision what a place could be, and the energy, passion and commitment to see it through. He is a tremendous leader for our organization, as well as a wonderful friend. We congratulate Ron on this well-deserved honor."

Mr. Fleming's Bellevue House occupies a prominent place at the beginning of the famed boulevard of the same name in Newport. Thanks to Mr. Fleming's generosity, the city has planted more than 20,000 daffodil bulbs a year for the past eight years, for a total of more than 160,000 bulbs. The daffodils can be seen every spring at the entrances to the city and extend from Farewell Street to Memorial Boulevard and along the Cliff Walk.

He is the author of several books, most recently "The Art of Placemaking: Interpreting Community Through Public Art and Urban Design." Previous books include, "Place Makers: Creating Public Art That Tells You Where You Are," "On Common Ground: Caring for Shared Land from Village Green to Urban Park,"" and "Facade Stories: Changing Faces of Main Street and How to Care for Them."

Mr. Fleming has been involved in various philanthropic efforts in Newport over the years. He donated the funding to research and create the Bellevue Avenue History Trail, a series of markers that detail the history and preservation of Bellevue Avenue buildings from the Newport Casino to Rough Point. He paid to replace concrete and asphalt on a traffic island located at the intersection of Bellevue, Coggeshall and Ocean avenues, just east of Bailey's Beach, with a garden featuring beach roses, native junipers and grasses, dark mulch and accent stones.

Click here to read more in the Newport Daily News.



Miami becoming a "Billboard Jungle" according to new article
The August 2013 cover story of the Biscayne Times takes an in-depth look at how the outdoor advertising industry, with help from complicit local and state officials, has succeeded in covering up much of the city with billboards, wall wraps and other outdoor advertising. If something isn't done to stop them, Miami will truly be a "Billboard Jungle."
Which would you rather look at: A nice example of contemporary architecture or a beer bottle?
While the city has seen a proliferation of all types of outdoor advertising, it has seen an alarming increase in what billboard companies are calling "murals," but what in reality are billboards plastered onto the sides of buildings: condos, office towers and even municipal properties.
Covering the west wall of the Miami River Center, the city's administrative office building, is a huge advertising mural. The Van Wagner company pays Miami $9250 per month plus a percentage of revenue for the privilege of using its building as a giant billboard. The murals draped over the Miami River Center have included ads for Heineken beer, a Spike TV show called Auction Hunters, and most recently, CNN's new morning show A New Day.
Advertising such as this is not permitted within 600 feet of an interstate highway. The city's building is less than 300 feet from Interstate 95.
"A billboard at this particular site represents the most egregious violation of the Highway Beautification Act that I have ever seen," said Bill Brinton, outside counsel to Scenic America. "And I can tell you that I have seen thousands of violations over the past 30 years. Behind these billboards are the 7th floor offices for the Miami Code Enforcement Department, the 8th floor offices for the Miami Public Works Department, and the 9th floor offices of the Office of the City Attorney."
Brinton calls this sign "the most illegal billboard in America."
Click here to read the full article.